Liner Height
Determines the effective mill inside diameter of a given set of "top hat" lifters for use in mill volume and critical speed calculations.
Calculates the cross sectional area of the "cone" portion of the lifter and estimates a corresponding mill diameter compensation for that cone.
No radial component to the liner shapes is assumed. All dimensions are modelled as rectangles and quadralaterals. Very small diameter mills with large liners will not be modelled effectively by these assumptions.
Example of spreadsheet display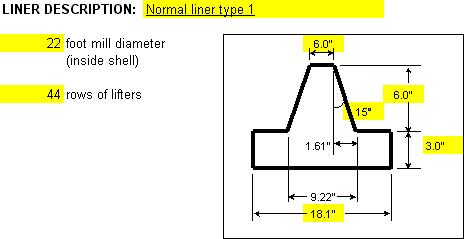 The Effective Width of this calculation may be used in the mill Critical Speed calculation